Wilson Elementary
Wilson Elementary School is located in Wilson Township in Alpena County in northeastern Michigan within easy driving distance of the City of Alpena. We serve a population of about 250 K-5 students from the Green, Long Rapids and Wilson Townships in Alpena County.
Wilson Elementary School opened in 1957 as an elementary school of the K-8 Wilson Twp. School District. With a campus located on ten acres of former farmland, Wilson became part of the Alpena Public Schools during consolidation in the early 1960's. In 1967, 7th and 8th grade students began to attend Thunder Bay Junior High School. Wilson served grades K-6 until 2010 when 6th graders moved to Thunder Bay Junior High as well.
EVE K-12 P-T Conferences

Nov 2

District Calendar

Half Day for Students - PM Off

Nov 2

District Calendar

PM Teacher Records

Nov 2

District Calendar

NO SCHOOL - AM K-12 P-T Conferences

Nov 3

District Calendar

Alpena Early College Information Night

Nov 9

7:00 PM to 8:30 PM

District Calendar

This event is open to any parent or student that is interested in learning more about the Alpena Early College program.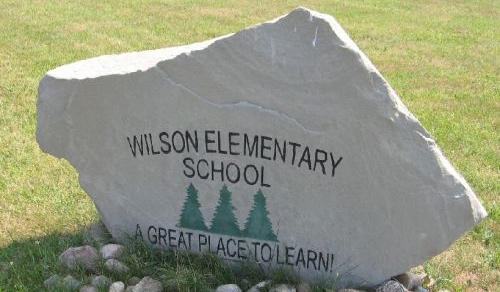 Schedule
8:44 - Doors Open/Breakfast
8:54 - Instruction Begins
4:03 - Dismissal
Half-Day Dismissal - 12:06
Recess/Lunch
12:00-12:20 - K, K/1, 1st, 2nd
12:30-12:50 - 2/3, 3rd, 4th, 5th